In Kosovo, high unemployment is a persistent challenge, but it is a reality that especially affects young people: almost half of young adults under 24 years old are out of work and many seek opportunities abroad. However, one 20-year-old graphic designer refused to surrender to this grim reality and got busy at her first opportunity.
 "I am enjoying my creative habitat that enables me to illustrate the world as I see it."
Arbra Shala, graphic designer at AmamStudio
Market-oriented professional mentoring in schools
The process of learning new skills has accelerated in the past two years for Arbra as she combines attending university classes in graphic design with working for clients at the studio. Her determination did not go unnoticed while she was attending a training programme, where her current employer was a mentor.
Alongside other high school students, Arbra was part of a one-month tailor-made training on Information Communications Technology (ICT) skills, that included graphic design, motion design, social media and multi-media. The school she was enrolled in was one of two vocational education and training high schools selected to benefit from an EU-funded programme implemented by Innovation Centre Kosovo (ICK).
Upon successful completion of the training, students were sent out to gain first-hand work experience through internship placements, from which many of them were employed within established companies. "Here, I am enjoying my creative habitat that enables me to illustrate the world as I see it. In every design, or illustration, there are elements of exaggeration that define me," Arbra says of her work.
Getting more women involved
In a traditionally male-dominated sector, increasing the numbers of women in ICT is important – not only is workforce diversity good for business, but the sector offers many opportunities. ICT is one most promising sectors for economic growth in Kosovo. Training programmes offered by ICK are very valuable and much in demand, with impressive results so far.
Sixty-one girls out of a total of 205 students and 30 teachers from two vocational education and training high schools in Prishtina and Prizren took part in the training programme. It enabled 51 young adults then to find a job in ICT – a sector that is emerging as a beacon of hope for younger generations to unlock their potential at home and contribute to a brighter future for the country. In addition to skills development, the project contributed to enhancing the entrepreneurship ecosystem, supporting 70 start-ups and companies with tailor-made consultancy services and incubation services at the centre.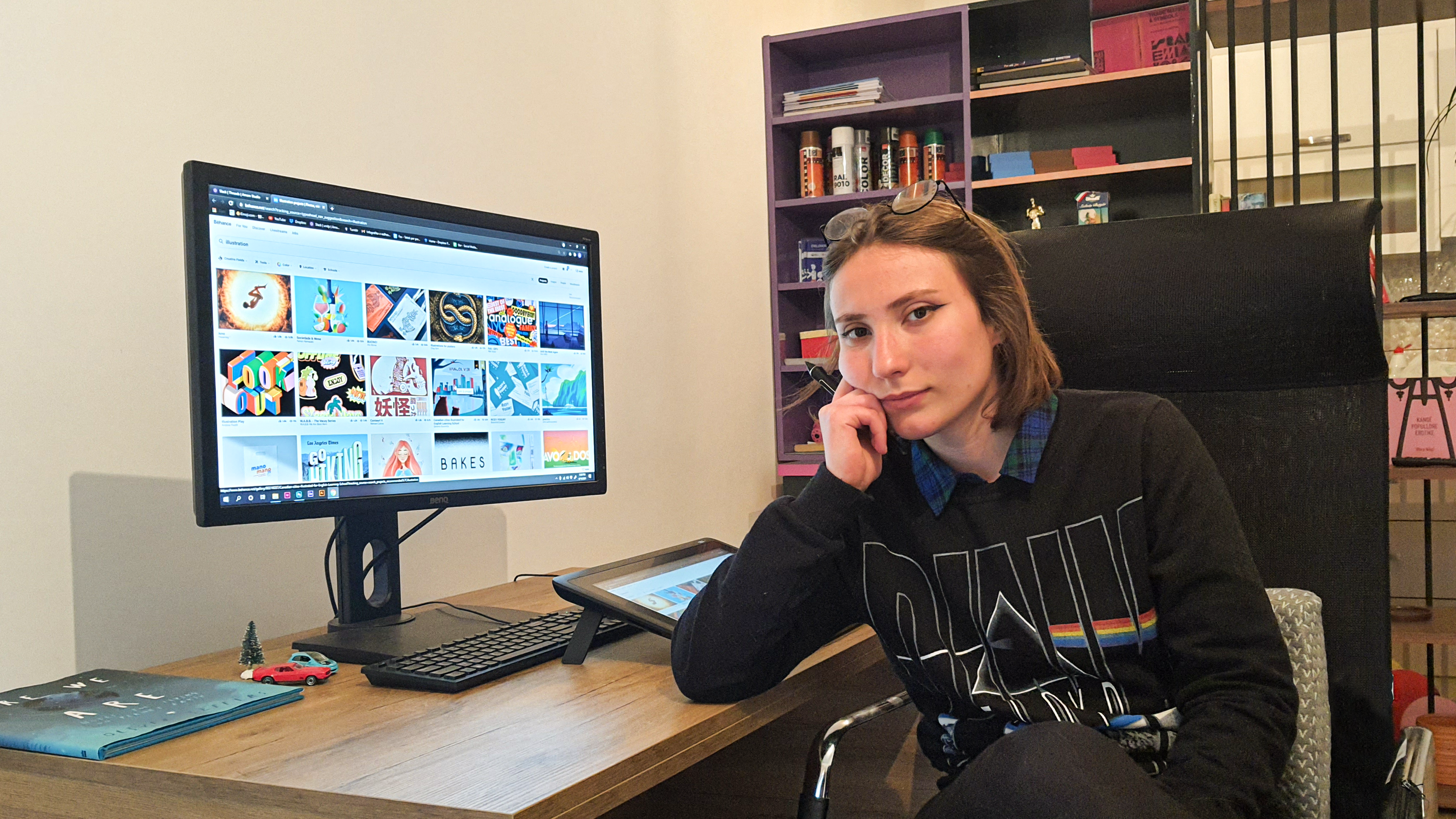 "I truly believe that graphic design can be my professional occupation."
Skills in high demand
"This programme has had a great impact since these skills are in high demand," says Dorina Grezda from ICK. "We've enabled young people to acquire the skills needed and put them into practice during their internships. As such, their chances of employment and self-employment have been increased, and young people have been given an opportunity to consider ICT as a career path."
An infusion of skills has proven successful in opening opportunities for youth who are in the process of defining their career path. Such is the case with Arbra, for whom the training enabled her to discover that graphic design is the thing she does best. She intends to build on current creative foundations and cement her occupation as a professional graphic designer. "I truly believe that graphic design can be my professional occupation," she says with confidence.
Photo credits: ICK & AmamStudio